Meet the Scholars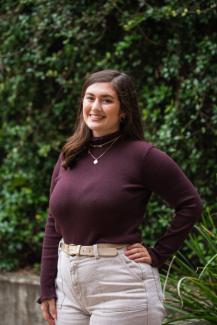 Annie Blanchard she/her
Hometown: Baton Rouge, LA
Major: Criminology and Public Relations with a Political Science minor
Minor:
Career Goals:
UROP Project: As If We Were Already Free: Unmaking the Myths of American Justice
Research_interests: Understanding injustices present in the American prison system
Community Involvement: Phi Aloha Delta Pre-Law Fraternity, College of Social Sciences and Public Policy Student Leadership Council, Academic Recruitment Organization, Women's Glee, University Ambassadors, Global Scholars Program
Last Book: The Prophet by Kahlil Gibran
Favorite Meal: Home cooked shrimp and grits!
---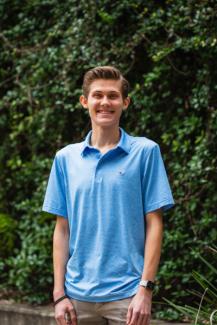 Aidan Carley he/him
Hometown: Boynton Beach, FL
Major: Biological Sciences
Minor:
Career Goals: Anesthesiologist
UROP Project: As If We Were Already Free: Unmaking Myths of American Justice
Research_interests: Biology, Sociology, Psychology
Community Involvement: Scots for Tots
Last Book: Beautiful Boy by David Sheff
Favorite Meal: Chicken parmesan
---
Syd Cole she/they
Hometown: Omaha, NE
Major: English
Minor:
Career Goals: Not entirely sure - something to do with writing
UROP Project: The Open Call Podcast
Research_interests: Anything English or Art related really
Community Involvement: Did work for Planned Parenthood & Heartland Pride events (rip I miss having Pride)
Last Book: Cat's Cradle (Kurt Vonnegut)
Favorite Meal: sushi :)
---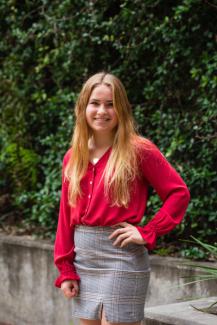 Olivia Csernecky she/her
Hometown: Thiells, NY
Major: Cellular & Molecular Neuroscience
Minor:
Career Goals: Physician
UROP Project: Chemogenetic manipulation of nucleus accumbens medium spiny neurons in ketamine reinstatement
Research_interests: Neuroscience research, Drug addiction research, and research on the effects of certain foods on disease
Community Involvement: Best Buddies Peer Buddy, Buddy Ball Instructor, Collected School Supplies for students in need, Raised money for charity through NR Sports Day, Volunteered at Nyack Hospital, Supply Drive for Big Bend Hospice and ECHO
Last Book: Tuesdays with Morrie
Favorite Meal: Grilled Chicken with Penne alla Vodka
---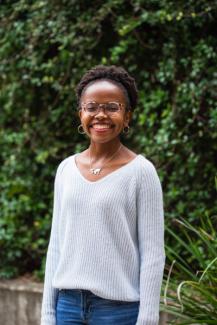 Jordyn Dees she/her
Hometown: Tampa, FL
Major: Editing, Writing, and Media & Interdisciplinary Social Sciences
Minor:
Career Goals: Museum curator, journalist, author, or other writing-related fields.
UROP Project: The Empire of American Science: Photographic Narratives and Visual Evidence.
Research_interests: Women of color in literature and film, perspectives of historical narratives, the interdisciplinary nature of social studies, and more!
Community Involvement: Honors Experience Program, Academic Recruitment Organization, Her Campus, University Ambassadors.
Last Book: Mexican Gothic by Silvia Moreno-Garcia.
Favorite Meal: Jerk chicken with rice and peas.
---
Julia Earnest she/her
Hometown: Jupiter, FL
Major: Exercise Physiology
Minor:
Career Goals: Medical School
UROP Project: The Rosenstrasse Foundation
Research_interests: Genetics & Nutrition
Community Involvement: Choir
Last Book: The 5AM Club
Favorite Meal: Sushi
---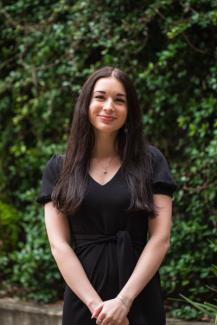 Natalie Griffiths she/her
Hometown: Salt Lake City, UT
Major: Biological Sciences
Minor:
Career Goals: Medical school
UROP Project: Health Information-Seeking Behavior of Pregnant Women
Research_interests: genetics, immunology, virology, epidemiology
Community Involvement: HOSA Future Health Professionals, Academic Recruitment Organization, will be getting my CMA this fall
Last Book: And The Band Played On: Politics, People, and the AIDS Epidemic by Randy Shilts
Favorite Meal: Cowboy ribeye steak with gorgonzola cheese sauce
---
Jamie Guterman she/her
Hometown: Fort Myers, FL
Major: Psychology
Minor:
Career Goals: Social psychology researcher / professor or lawyer
UROP Project: The Empire of American Science
Research_interests: I'm interested in human-technology interaction, specifically how social networking has fostered polarization. I'm also interested in moral psychology and group morality / conflict.
Community Involvement: Honors Student Association, ARO, Psychology Lab Assistant
Last Book: Love Your Enemies: How Decent People Can Save America from the Culture of Contempt by Arthur C. Brooks
Favorite Meal: My grandma's matzo ball soup!
---
Gabe Herschelman he/him
Hometown: Raleigh, NC
Major: Biology
Minor:
Career Goals: Cardiovascular Surgery
UROP Project: Understanding Fishing in Coral Reef Ecosystems
Research_interests: Biology and Ecology
Community Involvement: Academic Recruitment Organization
Last Book: Running in the Family by Michael Ondaatje
Favorite Meal: Sushi
---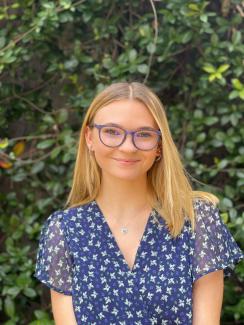 Brylee Hester she/her
Hometown: Port St. Lucie, FL
Major: Political Science and Interdisciplinary Social Science
Minor:
Career Goals: Work for a social service nonprofit, work on a campaign, or run for public office.
UROP Project: Drunk on Democracy: Investigating how religion and alcohol have influenced the image of a good American citizen.
Research_interests: I would like to research how developing economies depend on child labor and how one could restructure the economy to dismantle child labor systems.
Community Involvement: Kappa Kappa Gamma, Dance Marathon
Last Book: Becoming by Michelle Obama
Favorite Meal: Any kind of gluten free pasta
---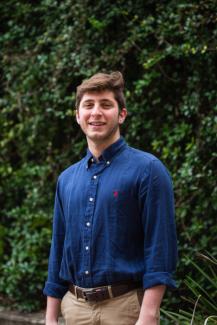 Sami Humeda he/him
Hometown: Pensacola, FL
Major: Interdisciplinary Medical Sciences
Minor:
Career Goals: Physician
UROP Project: Contrasting how General Electric depicted their workers in unpublished photographs and articles in comparison to other major magazine corporations.
Research_interests: Biology and Chemistry
Community Involvement: Boys Town
Last Book: The Shining
Favorite Meal: Sushi
---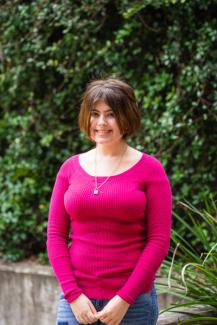 Sofia Lavidalie she/her
Hometown: Gonzales, LA
Major: Double majoring in English and English Education
Minor:
Career Goals: Professor
UROP Project: Research for a historical fiction novel
Research_interests: Education, child psychology, classic literature, gender studies
Community Involvement: UROP, Honors Experience Program
Last Book: Life and Death by Andrea Dworkin
Favorite Meal: Vegetarian sushi and strawberry boba tea
---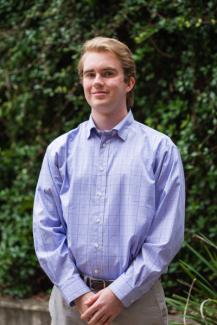 Kevin Miller he/him
Hometown: Fairfield, CT
Major: Economics
Minor:
Career Goals: Neurosurgeon
UROP Project: Emergent Literacy Training for Parents of Children with Hearing Loss
Research_interests: Hearing Loss, PTSD in Veterans, Brain Tumors, and Direct Primary Care
Community Involvement: Boy Scouts of America, Catholic Student Union, and Nu Rho Psi
Last Book: The Tattooist of Auschwitz by Heather Morris
Favorite Meal: My mom's homemade chili
---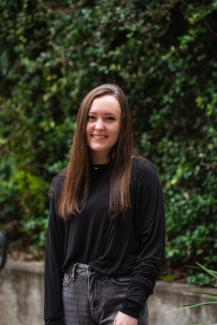 Sydney Mullen she/her
Hometown: Tarpon Springs, FL
Major: Criminology
Minor:
Career Goals: Something law related, possibly criminal law, or forensic psychology.
UROP Project: Investigation into the History of Race Relations in Tallahassee
Research_interests: psychology and sociology
Community Involvement: Volunteered at the summer camp I went to as a kid, organized school events / clubs
Last Book: The Towering Sky by Katharine McGee
Favorite Meal: Chocolate cake
---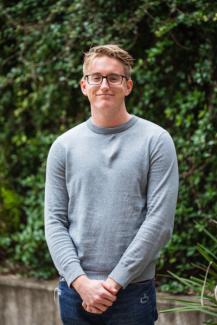 Ian Mutschler he/him
Hometown: West Palm Beach, FL
Major: Meteorology
Minor:
Career Goals: Work at a National Weather Service Office / The National Hurricane Center
UROP Project: Analyzing biases within computer models in genesis times of tropics cyclones
Research_interests: Improving tropical cyclone forecasting, tropical cyclogenesis, rapid intensification of tropical cyclones
Community Involvement: North Florida Chapter of the American Meteorological Society/National Weather Association, FSU club Water Polo
Last Book: Island by Aldous Huxley
Favorite Meal: My Mom's homemade spaghetti
---
Elizabeth Orraca
Hometown: Celebration, Florida
Major: Biology/Statistics
Minor: Chinese/Math
Career Goals: Biostatistician at WHO
UROP Project: Magnetic Molecules for Quantum Information Processing
Research_interests: Health, Bioinformatics, Epidemiology
Community Involvement: Seminole Organic Garden, Greenhouse Farms
Last Book: A Tree Grows in Brooklyn
Favorite Meal: Carne Asada with Mofongo
---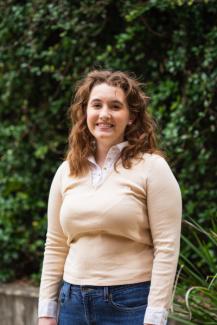 Caroline Owen she/her
Hometown: Jacksonville, FL
Major: International Affairs
Minor:
Career Goals: I hope to be a diplomat to a Middle Eastern country/embassy.
UROP Project: Ungentlemanly Warfare: The Experience of Women Spies of the SOE in WWII
Research_interests: I don't plan to continue researching in the future, it's not what I'm really interested in.
Community Involvement: At FSU, I'm involved with the Presidential Scholars Diversity and Inclusion Board and I work with New Student and Family Programs as a 2021 Orientation Leader!
Last Book: Angels and Demons by Dan Brown
Favorite Meal: I love sushi, it's probably my favorite meal to spend money on and enjoy with friends.
---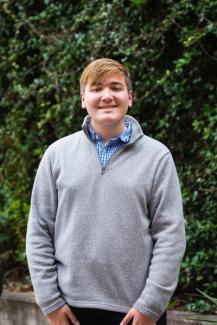 Gabriel Pfeuffer-Ferguson he/him
Hometown: Cantonment, FL
Major: Interdisciplinary Social Sciences
Minor:
Career Goals: Politician
UROP Project: Morphological Instruction: A Survey of Teacher and Speech Language Pathologists' Perceptions and Experiences
Research_interests: Educational Policy, Impacts of Professional Development on Teachers, Diversity and Inclusion within Schools
Community Involvement: Presidential Scholars Executive Board, Vietnamese Student Association, Best Buddies, Honors Experience Program, University Ambassadors
Last Book: Red, White, and Royal Blue by Casey McQuiston
Favorite Meal: My grandma's Bánh Xèo and egg rolls
---
Chandler Pruett he/him
Hometown: Waxhaw, NC
Major: Meteorology & Statistics
Minor:
Career Goals: Join National Hurricane Center (specifically the NOAA Hurricane Hunters)
UROP Project: Researching fractional dimensions relating to meteorology equations
Research_interests: Severe Weather, Tropical Meteorology and Hazard Communication
Community Involvement: RMS Meteorological Analyst, FSU Weather, FSU Navigators, FSU Hiking Club, FSU Climbing Club
Last Book: The Bible (every single day!); last book read was Jonah
Favorite Meal: Chicken Pot Pie
---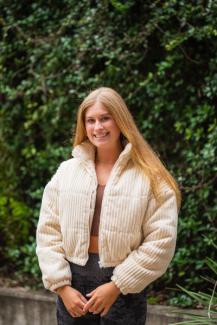 Grace Robinson she/her
Hometown: Orlando, FL
Major: Exploratory
Minor:
Career Goals: Working directly with or at a company that supports people with disabilities
UROP Project: Playground Accessibility for Children with Disabilities
Research_interests: Universal Design, children with disabilities
Community Involvement: Alpha Chi Omega, Best Buddies
Last Book: Where the Crawdads Sing by Delia Owens
Favorite Meal: Anything from my air fryer
---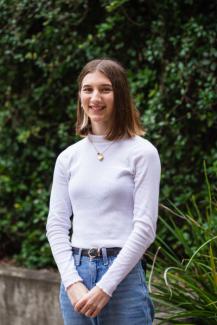 Lauren Russell she/her
Hometown: Sarasota, FL
Major: Public Health
Minor:
Career Goals: Infectious Disease Epidemiology
UROP Project: Medical Applications of Exosomes
Research_interests: Infectious disease epidemiology, computer science, disease/health surveillance
Community Involvement: (current) FSU SHAP, Pschols diversity and inclusion board, (past) model un, math tutoring
Last Book: The Dinner by Herman Koch
Favorite Meal: Quesadillas
---
Nick Schwab he/him
Hometown: Sarasota, FL
Major: Criminology and Communications
Minor:
Career Goals: Undecided
UROP Project: A Comprehensive Mass Shooting Database
Research_interests: I'd love to research something related to law
Community Involvement: Member of a few clubs such as Friday Night Live and White Mouse Productions. I plan on working with the FSU gardens this semester.
Last Book: Comandante: Hugo Chavez's Venzuela
Favorite Meal: Veal Piccata
---
Haley Thomasson she/her
Hometown: Iverness, FL
Major: Psychology & Advertising
Minor:
Career Goals: Work at an advertising firm or as an organization/industrial psychologist "}" style="font-size:10pt;font-family:Arial;font-style:normal;">Work at an advertising firm or as an organization/industrial psychologist
UROP Project: FSU Speed Dating Project
Research_interests: Interpersonal Relationships and Decision Making
Community Involvement: UROP
Last Book: Tuesdays with Morrie by Mitch Albom
Favorite Meal: Anything breakfast
---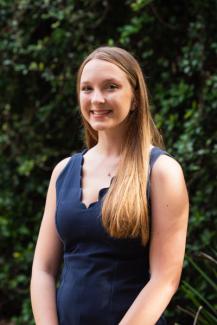 Rose Walters she/her
Hometown: Boca Raton, FL
Major: International Affairs- Concentration: Economics & Chinese- Concentration: Business
Minor:
Career Goals: U.S. Foreign Service Officer/ International Developer in East Asia/ Social Entrepreneur
UROP Project: Direct Democracy and State Social Policies
Research_interests: Political Science, International Affairs, Psychology
Community Involvement: Experience Church, World Affairs Program (Model United Nations), Legislative Intern to FL House Representative Matthew Willhite- District 86
Last Book: Poor Economics
Favorite Meal: Hibachi steak and fried rice
---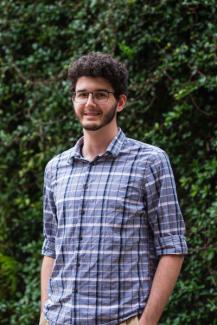 Finn Wright he/his
Hometown: Orlando, FL
Major: Computer Science / Editing, Writing & Media
Minor:
Career Goals: software design or journalism
UROP Project: application of media literacy to current events
Research_interests: emerging technologies, political polarization
Community Involvement: service trips and food drives
Last Book: The Andromeda Strain by Michael Crichton
Favorite Meal: lunch
---